Draft Mechanic Episode 16: Paradox six-pack review; The Bloody Inn on tap; Spring Beer Roundup
Welcome back, listeners! Today we've got a heaping space spoonful of timeline meddling with Split Second Games' new release "Paradox." We also talk about some recent games that have hit Kickstarter and some games we played at our monthly open gaming night at Salud Beer Shop in Charlotte. On tap today we have last year's "The Bloody Inn" with four great thematic beers. Finally, it's spring now, so we've included a brief roundup of some great spring seasonals you can get your hands on now!
Kickstarter Roundup:
Monikers: Something Something
Kickstarter ends April 16th / BoardGameGeek
Fog of Love
Kickstarter ends April 3rd/ BoardGameGeek
The Manhattan Project: Energy Empire
Kickstarter ends April 7th / BoardGameGeek
Salud Board Game Night Roundup:
Sheriff of Nottingham
2014, Arcane Wonders / Cool Mini or Not
Designer: Lorraine Schleter, David Sladek
Tokaido
2012, Fun Forge
Designer: Antoine Bauza
Six Pack Review
Paradox
2016, Split Second Games - Website / Game Page
Designer: Brian Suhre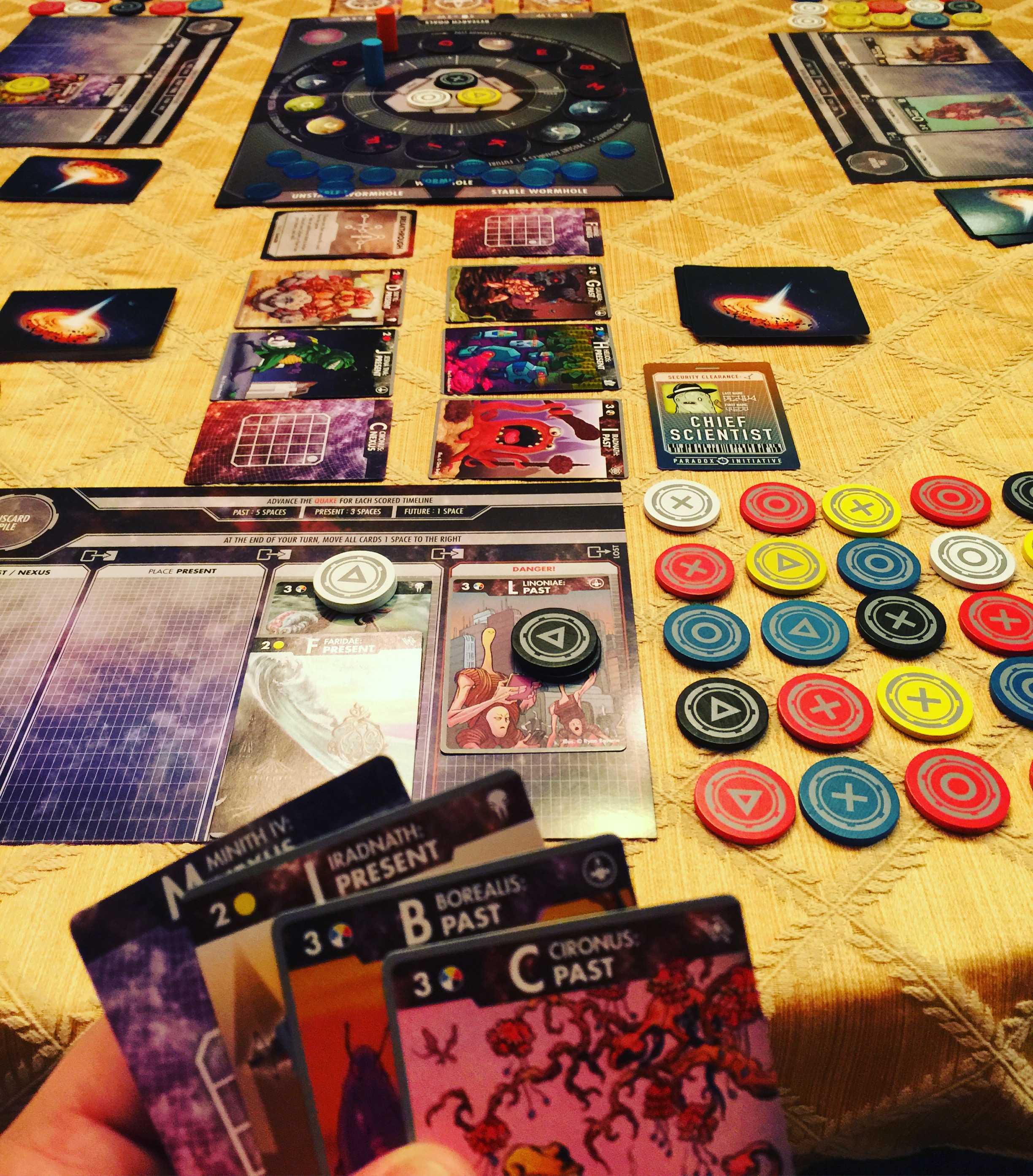 On Tap: Beer Pairings
The Bloody Inn
2015, Pearl Games
Designer: Nicolas Robert
Fonta Flora Brewing "Bloody Butcher" Appalachian Style Grisette. Morganton, NC.
4.2% ABV, 750ml Bottle. Uses Fox Farms Bloody Butcher corn.
Heretic Brewing Company "Shallow Grave" Porter. Fairfield, CA
7% ABV, 33 IBU. 22oz bottles.
Boulevard Brewing "Tell-Tale Tart" Sour ale. St. Louis, MO.
6.2% ABV, 10 IBU. 12oz 4-pack. Very light tartness and a 'soft, biscuity' malt.
Left Hand Brewing Company "Wake Up Dead" Russian Imperial Stout. Longmont, CO
10.2 % ABV. 22oz bottles CO2, 12oz bottles Nitro.
Spring Beer Roundup
Dogfish Head Brewing "Aprihop", Apricot IPA. Milton, DE.
7.0% ABV, 50 IBU. 12oz bottle, 4pk. Apricot juice, Amarillo dry-hopped.
Bells Brewing "Smitten", Golden Rye Ale. Kalamazoo, MI.
6.0% ABV, 12oz bottles (6 and 12 packs), 16oz cans. Citrus hops, earthy rye.
Ommegang "Glimmerglass" Spiced saison. Cooperstown, NY.
5.4% ABV, 12oz bottles. Pear, apple and citrus with floral hop profile.
Revolution Brewing "A Little Crazy" Belgian-style pale. Chicago, IL.
6.7% ABV, 35 IBU. 12oz cans, 6pk. Pilsner malt, with a citra & cascade dry hop.
Victory "Kirsch Gose" Cherry Gose. Downingtown, PA.
4.7% ABV, 12oz bottles. Sour and tart.
NoDa Brewing "Ghost Hop" White IPA. Charlotte, NC.
5.9% ABV, 70 IBU. Draft only. Light body, citrus & pine hops.
Founders "KBS" Bourbon-barrel stout. Grand Rapids, MI.
12.4% ABV, 70 IBU. Coffee and chocolate, then aged in bourbon barrels for a year. Because some days are cold.
Section Timestamps:
01:15 Show housekeeping
03:06 Kickstarter: Monikers
06:28 Kickstarter: Fog of Love
08:36 Kickstarter: Manhattan Project: Energy Empire
10:40 Kickstarter: Pack-o-Game 2
11:50 Recent Plays: Sheriff of Nottingham
18:00 Recent Plays: Tokaido
22:20 Six-pack review: Paradox
56:03 On tap: The Bloody Inn
60:56 Spring Beer Roundup
67:20 Outro